Celebrate summer in Cambridge in musical style as Music in the Parks makes a welcome return from July. The programme of free Sunday afternoon concerts is open to all and will take place on beautiful green open spaces throughout the city.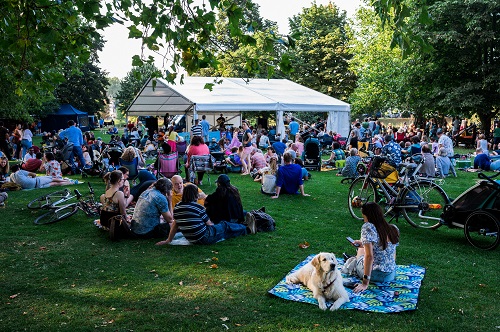 Image credit: Chris Boland
Organised by Cambridge City Council, the music events are sponsored by lead sponsor Graduate Cambridge Hotel, continuing last summer's successful partnership, with support also this year from sponsors Cambridge BID, Cambridge Water and High Sheriff's Fund via Cambridgeshire Community Foundation.
Music in the Parks is a highlight in the city's summer calendar, with people enjoying the opportunity to get together in their local parks and recreation grounds while relaxing and listening to live afternoon music in the company of friends and family.

Featuring more concerts than ever, eight events will take place on various Sundays from 9 July through to 17 September. From the infectious and irresistible ska dance rhythms of Cambridge's massively popular Big 10, sophisticated funk and pop, mesmerising multi-voiced choral creations, and the warm sounds of brass, these will be essential dates in the diary for easygoing outdoor Sunday afternoons of music, and all for free.
Chris Douglas, General Manager, Graduate Cambridge, lead sponsor, said: "Graduate Cambridge is delighted to be sponsoring Music in the Parks for the second year running. We are really looking forward to hosting a concert again in our beautiful riverside garden setting; this time 4Villages Orchestra, a 40-piece group specialising in favourite themes from film and TV, will put on a great afternoon performance!"
Summer schedule
9 July, Coleridge Recreation Ground, Royston Town Band
16 July, Jesus Green, Big 10 + DisFunktional
6 August, King George V Playing Field, Haverhill Youth and Community Band
13 August, Jesus Green, Rajasthani Brass Band plus Dance and Poetry
20 August, St Albans Recreation Ground, Vocal Remix Choir plus support
3 September, Nightingale Recreation Ground, Somersham Town Band
10 September, Cherry Hinton Hall, Soham Comrades Band
17 September, Graduate Cambridge Hotel, 4 Villages Orchestra in association with Graduate Cambridge
For more information, please visit our Cultural Services website or Facebook page.