If you've passed the Guildhall this month you may have spotted that we are flying the Pride flag as we show our continued support for Pride month.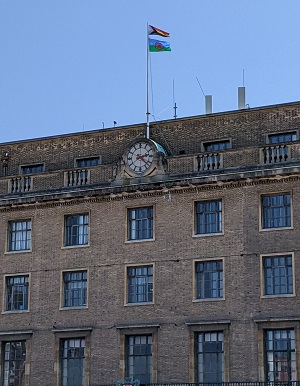 Each June around the world people support Pride – a month of celebration of how far LGBTQ+ rights have come. As well as being a month to celebrate progress, Pride is also an opportunity to promote the need for further education and awareness of issues that still affect people within the LGBTQ+ community.
One of the main ways to celebrate Pride locally is by supporting or attending the annual Cambridge Pride festival, on Saturday 17 June, from midday on Jesus Green.
Sponsored by Anglia Ruskin University, the festival is free to attend and open to everyone. The event aims to continue building visibility and a sense of belonging for the LGBTQ+ community. There will be a parade in the park to take part in, followed by music, comedy and other performances and activities to enjoy. Follow the event on Facebook, Instagram or Twitter for the latest information.
The council is pleased to support Cambridge Pride by providing officer time and festival space (Jesus Green) free of charge, as well as offering a £5,000 grant to support the running of the event. 
We have also funded The Kite Trust again this year. The Kite Trust provides support for young LGBTQ+ people and their families. Council funding will support the team in running a range of activities for LGBTQ+ young people, including one-to-one support in schools, colleges and community venues; weekly group for 13 to 17 year olds and 18 to 25 year olds; regular online groups for those unable to attend in person; monthly physical activities, and arts or cultural activities; a summer camping trip; and a 30th anniversary celebration day.
Last year we provided funding to Encompass Network. One of the activities they undertook as a result was to conduct an LGBTQ+ needs assessment in our area. This asked local LGBTQ+ people about their health and wellbeing, safety, experiences of being out, domestic violence and hate crime, issues within the community, and experiences accessing council and LGBTQ+ services. The findings of the needs assessment were shared at the council's Equalities Panel in January this year, and with the Cambridge Community Safety Forum, and will be used to help shape the council's next Single Equality Scheme (2024 to 2027) in the coming months.
Cllr Mairéad Healy, Executive Councillor for Equalities, Anti-Poverty and Wellbeing, said: "I'm always happy to see such colourful celebrations during June, and as a council we're committed to supporting LGBTQ+ communities during Pride and the rest of the year.
"One of the best ways to get involved in Cambridge is by coming along to Cambridge Pride on 17 June. It's set to be a fantastic festival and is a brilliant way for everyone to come together to celebrate and show support for LGBTQ+ communities. I'd encourage anyone who's never been before to pop down and join in the fun. There'll be loads of free entertainment and activities for the whole family.
"Of course, as well as joining in with the celebrations, we're committed to continuing the important work of promoting equality, and challenging discrimination wherever it shows up."
The council's support for the LGBTQ+ community is part of its wider commitment to strengthening equality and inclusion, and celebrating diversity in Cambridge. You can find out more about our ongoing Equality and Diversity work on our webpage, including:
Our equality and diversity policy
Our Equality Value Statement, which sets out the responsibility of our staff
Our Single Equality Scheme 2021 to 2024, which is our current plan and includes objectives and actions around our Public Sector Equality Duty
And the Equality Pledge – which encourages partners and individuals to show their commitment to challenging discrimination and promoting equality of opportunity by signing the Pledge – which the council is a co-founder and signatory of.