GRT History Month has been taking place each June since 2008. Through celebration, education and awareness raising, the month helps to tackle prejudice, challenge myths and amplify the voices of Gypsy, Roma and Traveller (GRT) people in wider society.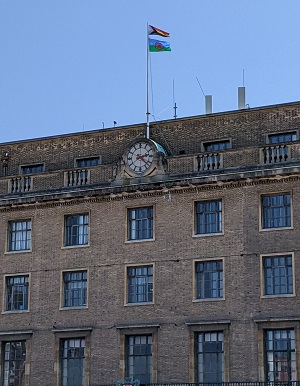 The council supports Gypsy, Roma and Traveller History Month as part of our wider commitment to strengthening equality and diversity in Cambridge, and anyone passing the Guildhall this month may spot the Romani flag being flown during June.
In line with GRT History Month, we wanted to share an update on some of the projects we work on throughout the year to support GRT people.
Council staff attended Midsummer Fair last summer along with public health colleagues to meet the traders, many of whom are part of the Showman's Guild. It was a good opportunity to share information about an event being planned at the Corn Exchange for the GRT community in December.
The Corn Exchange event in December was a hit, with 200 people attending to watch – and join in with – live music performances.
Following the success of the December event, plans are currently forming to host a similar event at Brown's Field Community Centre this summer.
We are recruiting a new part-time GRT Community Development Officer who will work with the communities to run group activities, provide support for families and signpost families to services.
The new Community Development Officer will also be able to take forward plans to launch the Cambridge chapter of an existing Cambridgeshire Heritage project, which is being run with partners across Cambridgeshire, initially in Wisbech.
We're hosting an online information session for colleagues during June, with a presentation by Friends, Families and Travellers – a national organisation that supports GRT communities. Topics will include supporting members of GRT communities to access services; and best practice relating to providing sites for GRT communities.
We undertake welfare assessments for each encampment in Cambridge to determine any support people may need in accessing key services and, where appropriate, will provide access to waste collections and bathroom facilities.
With South Cambridgeshire District and Cambridgeshire County councils, we have set up three new working groups to collaboratively find solutions where it is found that there is a lack of accommodation sites and stopping places for Gypsy, Roma and Traveller communities.
With South Cambridgeshire District Council we have commissioned Arc4 to carry out a Gypsy and Traveller Accommodation Assessment, to help understand the accommodation needs of Gypsy, Roma and Traveller people across Greater Cambridge. It will also look at the needs of Travelling Showpeople and other people living in caravans and houseboats. The evidence collected will show whether more local accommodation is needed for these groups; and if so, how much. It will also explore the potential need for places where Gypsy, Roma and Traveller households can stop on a temporary basis. We expect the work to be completed in early 2024.
Cllr Mairéad Healy, Executive Councillor for Communities, said: "As a council, we are committed to supporting our GRT communities both during Gypsy, Roma and Traveller History month and year-round. We are proud of the progress we have achieved this year including the appointment of a new dedicated role for a GRT community development worker and setting up structures to work towards site provision, including a cross-party cross-authority working group which I sit on. We have more to do, but we are working at pace to deliver on our commitments in relation to our GRT communities.
"GRT History Month is a great opportunity to find out more about our GRT communities, their culture and traditions and I would encourage everyone to engage with the events and resources available."