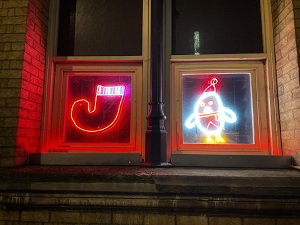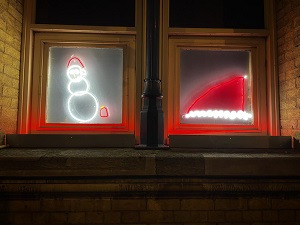 TWO NEON Christmas lights will add extra seasonal cheer to Cambridge Corn Exchange following the annual Kidsmas Lights competition in which local children design festive art - with this year's winning drawings being created by students at The Galfrid School and Trumpington Drama Group.
Funded and supported by Cambridge City Council, the idea was inspired by Newburgh, a town in Scotland, which has created a new Christmas light every year for the last 18 years.
Kidsmas Lights competition entries were received from The Galfrid School in Abbey and The Trumpington Community Drama Group for 2022, with winners Labibah and Spike joined by Cambridge's Mayor, Cllr Mark Ashton to unveil the neon signs.
The signs will be displayed alongside 2021's winning signs at Cambridge Corn Exchange; to be enjoyed by Christmas shoppers passing the venue and thousands attending the venue's festive season shows, including ballets, Swan Lake and The Nutcracker.
100 children from the participating school and community group will also have the chance to enjoy some Christmas magic at the ballet, after being given tickets by the city council-run venue.
Cllr Alex Collis, Executive Councillor for Open Spaces, Food Justice and Community Development, said: "This is such a fun, inspiring project, one which involves and includes children right across the city. It's building a wonderful community legacy year on year, with a growing collection that will light up Cambridge so beautifully, not just this year but in future Christmases."

Claire Macfie, Head Teacher of The Galfrid School, said: "Our whole school community is thrilled for Labibah.  She worked incredibly hard on her design and we can't wait to see her lights in the city – they will certainly bring some Christmas cheer! It was wonderful for Labibah to join the Mayor and Mayoress to turn on the lights and we are grateful to Cambridge City Council for organising such a special community event."
Now in its second year, the project involves working with primary schools and community groups in the lead-up to Christmas, eventually building up the number of lights designed by the city's children, to create an ever-growing art collection.