Whether cycling is your only mode of transport, or you cycle occasionally for recreation, it's important to keep your bike secure at home and when out.
Follow these three simple steps to keep your cycle as safe as possible:
Read about the Save our Cycles campaign, which we have launched with local organisations to promote better cycle security.
Graphics courtesy of Cambridge Cycling Campaign.
Love it: Make a note of your cycle's details
Make a note of specific details about your bike, including its make and model, colour and size, and frame number. Take clear photos, and keep the details safe along with receipts for your cycle and any accessories.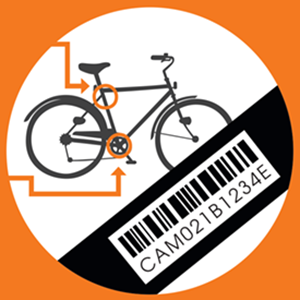 The frame number will be stamped into the metal or printed on a sticker. It's usually located on the seat tube or the bottom bracket.
You could also insure your cycle against damage and theft, either as part of your home insurance or on a separate policy. Check the small print to make sure you understand what the policy does and does not cover.
Lock it: Keep your cycle secure
Camcycle recommends using two locks whenever you leave your cycle. The more valuable your cycle is to you, the better the locks need to be to deter theft.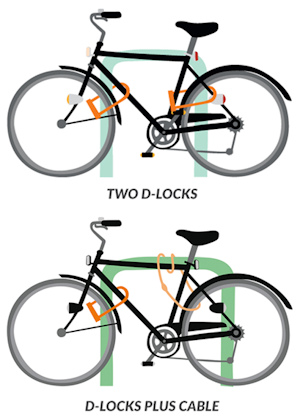 D-locks are usually more secure than cable locks. Lock your frame and wheels as tightly as possible to a secure cycle stand. This reduces the space available to remove the locks.
Position keyholes towards the ground to make them more difficult to pick. Avoid placing the lock on the ground where it will be more vulnerable to impact.
Keep combination codes and keys safe. Take removable items such as lights, bags and GPS devices with you when you leave your bike.
Look for a Gold rating or higher from Sold Secure when you buy your lock. The stronger the lock, the more difficult and time-consuming it will be to cut through.
Where to lock your cycle
It's best to lock your cycle in a secure indoor location. If this is not possible, choose somewhere with a cycle stand or sturdy structure that you can lock your frame and wheels to.
Choose a stand that is set into the ground if you can, rather than one that is bolted to the ground.
Larger free-standing cycles such as cargo cycles can be more easily locked to a ground anchor than to a stand. Queen Anne Terrace car park has three bays for cargo cycles with secure ground anchors.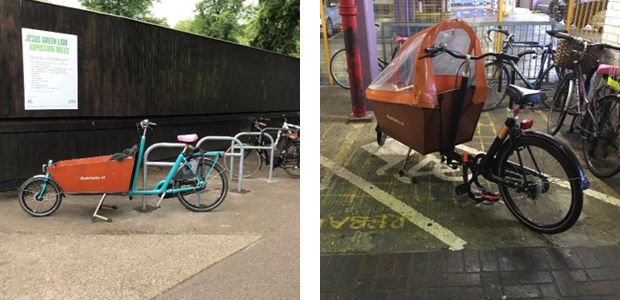 'Sheffield' style cycle stands set into the ground, some with crossbars, and cargo cycle bays with grounds anchors.
Be considerate, and do not lock your cycle in a way that will cause an obstruction to other people. Do not park a standard cycle in a space intended for a cargo cycle.
Choose your parking place carefully. Take note of the location – a street name or nearby building name and number can help. Take a photo of your locked cycle before you leave it. If your cycle is stolen, this information will be important when you report it.
Choose a busy, well-lit area covered by CCTV cameras. Try not to lock your cycle in the same place every day, or overnight in public spaces.
Report a stolen cycle
If your cycle is stolen, report it to the police as soon as possible. You can report a crime online, phone 101, or visit the police station. You will need to provide the following information:
Your cycle's frame number, make, model and colour
Any other identifying features, such as its Bike Register reference number
Time and location details including:

where and when you left it
when you returned
which direction you arrived from when parking it
your description at the time
If your bike is stolen from a workplace premises, railway station, college grounds or similar, we advise you to also report it to the site manager.
Your bike might have been removed, not stolen. If we consider it to be abandoned or causing an obstruction we will remove it, particularly if it isn't locked to a bike rack. Find out how to report an abandoned or missing bike.
List it: Register your cycle
Register your cycle's frame number and photographs on Bike Register, a secure online database that all UK police forces can access.
Use a cycle-marking kit to help deter theft and make it easier to identify your cycle.
These measures will help the police return your cycle to you if it is stolen and later recovered.
Cambridgeshire Constabulary run frequent free events where you can get your cycle marked and access advice about cycle security.