At the Sir Arthur Marshall Future Champions award ceremony held on Thursday (9 November) at Cambridge Airport, 30 young athletes aged 11 to 25 were awarded grants of up to £250 to help fulfil their sporting potential.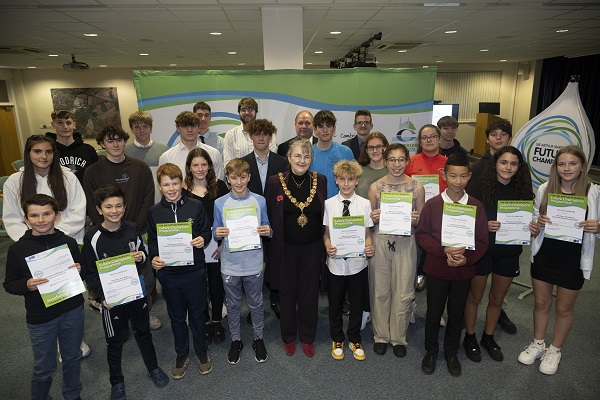 The grant programme – which started in 2010 in memory of Sir Arthur Marshall – has allowed more than 130 talented young Cambridge and South Cambridgeshire athletes to be supported through the Sir Arthur Marshall Grass Roots Fund. The fund is sponsored by Marshall of Cambridge and administered by Cambridge City Council's Active Lifestyles team.
This year funding has been awarded to 30 young athletes who excel in sports including diving, kayaking, trampolining, fencing, rowing, ice hockey and athletics who compete at county or regional level. The grants can be used to cover costs associated with coaching and training, including training camps, transport to training and competitions, and specialist equipment.
Cllr Mike Davey, Leader of Cambridge City Council, said: "Thanks to Marshall of Cambridge for this fantastic programme – it's a fine example of how important local organisations can be in reaching out and supporting young people in this city. All of the costs involved in playing sport at a higher level can quickly add up for families, so it's brilliant that local elite athletes have once again been able to access funding to help them to continue training towards their goals.
"We know that previous recipients have gone on to play cricket for Middlesex and football for West Ham Women's Team, and to represent Great Britain in recent Paralympic Games in para-cycling and goalball – I look forward to hearing what this year's cohort will go on to achieve."