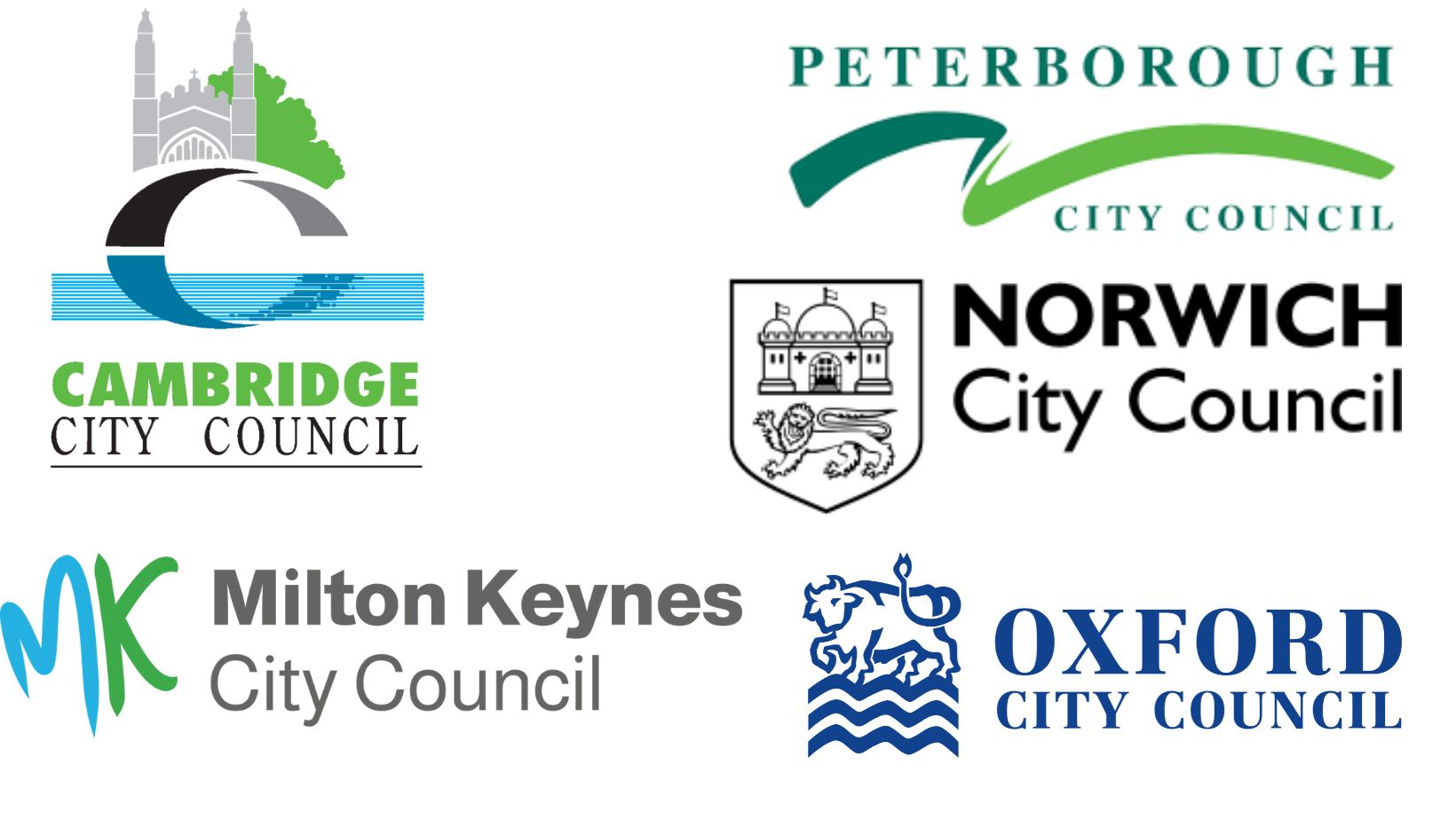 An influential group of city councils has published new research showing how investment across four key areas and devolution of powers could help the UK to become a science and technology superpower.
The report The Case for Support and Investment, commissioned by the Fast Growth Cities (FGC) group, shows how devolved powers and targeted economic investment from both government and the private sector could increase those cities' economic contribution to UK plc from £42bn per annum in 2020 to up to £150bn by 2043, with additional tax contributions to the exchequer of up to £1bn; and employment growth from 666,000 jobs today to almost 900,000 by 2050.
The FGC group comprises the city councils of Oxford, Cambridge, Milton Keynes, Norwich, and Peterborough. Subsequent to the research commission, Swindon has now rejoined the FGC group, and so it is not included in the findings. Each FGC already makes a significant contribution to the national economy in terms of jobs, tax, innovation, trade and foreign investment.
Despite their strengths, all five cities face constraints and challenges which threaten to hold back their economic growth potential. The research, undertaken by socio-economic consultancy Volterra, highlights four key investment priority themes on socio-economic issues all of the cities share, as well as specific asks. Sitting on top of these four themes, is the need for further devolved powers to be afforded to these cities. Specifically, the five asks are:
Devolved powers – The role of local government is critical to improving the prosperity of areas. The FGCs and their partners are seeking a range of devolved powers, both regulatory and fiscal. In two-tier areas where devolution deals are being considered, it is important that devolution follows the subsidiarity principle and includes devolution to the FGCs themselves to ensure the particular needs, challenges and opportunities of the urban centres are addressed. Enhancing the role of local government through devolved powers would enable them to retain more of their local revenue, as well as allow them to act as pilot locations for innovative interventions across their priority investment areas. Regulatory devolution, for example allowing the FGCs to implement a tourism tax, will enable them to raise funds through a variety of means. Fiscal devolution will enable the FGCs to fast-track strategically important projects (across the below investment themes), facilitating the FGCs in their continued growth and international competitiveness.


Physical infrastructure – There are substantial physical infrastructure constraints that are hindering growth across the FGCs. The FGCs are seeking a collective discussion with a range of government departments, their agencies and regulatory bodies, and the UK Infrastructure Bank. Agreement is required on which proposals to improve transport, power supply, water, and sewage infrastructure must be fast-tracked for approval, to ensure the FGCs' and regions' economies can grow to their full potential. For example, East West Rail, including its proposed extension to Norwich, is a priority to connect the FGCs and turbocharge growth across their economies.


Inclusive growth and social mobility – The FGCs require the devolved powers necessary to address their own respective inequalities. Engagement is sought with relevant government departments to discuss the feasibility of devolving skills funding and co-commissioning employment support. Investment into skills, education and jobs initiatives within the FGCs will provide the councils with more power to work in their local communities and ensure inclusive growth. Early years education, new universities, skills partnerships, and skills development programmes are key priorities focused on maximising social mobility for all ages.


Housing and planning – Housing markets that are limited in supply and often unaffordable to residents are holding back the FGC economies. The FGCs are seeking greater autonomy over local policies to tackle issues within their housing markets and test innovative approaches to planning. Meanwhile, investment to regenerate city centres should be prioritised to better suit the needs of the future economic environment, such as creating urban innovation districts and putting a focus on placemaking. This will make the FGCs an attractive place for people to live and work.


Sustainability – The FGCs are already at the forefront of tackling the UK's climate emergency, with further investment and flexibility needed to drive a sustainable and green transition. Longer term, secure funding is sought for sustainable infrastructure in all FGCs. This includes key priorities such as electric vehicle charging, active travel improvements and increases in green space. Support and cooperation on regional skills strategies is also required, to help the FGCs understand the important role green skills will play in the future. The drive for sustainability traverses many sectors of the economy and thus efficient intra-departmental thinking is integral both within national and local government.
Each priority theme is outlined in more detail in the FGC research, with a clear vision of the role government, local leaders and the private sector all need to play in order to make these economic 'asks' a reality.
Given the country's relatively poor economic performance forecast for 2023, the FGCs believe it is crucial the government invests in areas of the country that will deliver a net economic benefit to the UK as a whole – by attracting inward investment and encouraging domestic private sector investment in the UK's growth sectors.
FGCs have a number of unique strengths, and together they contribute disproportionately high levels of tax to the UK exchequer – the FGCs collectively contribute approximately £11,900-£15,900 per capita, in comparison to England's per capita average of £8,900-£11,900.
The cities also have many of the fundamental characteristics to deliver the economic growth needed to level up the UK, and contribute significantly to economic activity and innovation for the whole UK economy. They already have access to highly skilled workforces, produce world-leading research and are supported by private investment.
While many of the other largest cities in the UK currently lag behind European counterparts on a wide range of economic indicators, such as productivity, innovation and business investment, the FGCs are, at least on some indicators, some of the most productive cities in the UK outside of London.
Were the UK to unlock the economic potential of these cities, and bring productivity in line with other comparable international cities, the FGCs would deliver improved living standards for workers throughout the UK.
This unlocking of the FGCs potential can only be done, the group's research says, by a greater devolution of powers and additional investment into improving the underlying conditions of the FGCs economies.
"The Fast Growth Cities case studies of local success stories provide demonstrable evidence our local economies have the ability to attract investment from global firms that would not otherwise have been brought to the UK. We are calling on the UK government to help the UK to achieve its economic potential on the world stage, becoming a science and technology superpower and global leader in the green transition.
"Our cities are leading the world in innovation, research and medical science and we need the UK government to help us deliver the housing and other infrastructure that our cities need to grow sustainably."
Chair of Fast Growth Cities and Leader of Oxford City Council, Councillor Susan Brown
"Cambridge and the other Fast Growth Cities have a huge amount to offer both local people and businesses, but also the wider national quest for prosperity, equity and sustainability.
"We are keen to engage with Government and a range of local partners to bring forward the key investments and flexibilities that would ensure that our cities and our economies can continue to grow in a genuinely sustainable and inclusive way."
Leader of Cambridge City Council, Councillor Mike Davey
"Milton Keynes is a city that is Better by Design, where innovation and sustainable growth are embraced. The city is one of the fastest growing places in the UK, in terms of both housing growth and economy.
"Like in all Fast Growth Cities, success and growth do present their own challenges with issues arising around affordability and constraints on infrastructure, and we have to ensure that growth is properly planned, and delivers for our communities. We have cemented our commitment to sustainable growth through our 'Strategy for 2050'.
"Milton Keynes City Council is a proud member of the Fast Growth Cities group, and through cooperative working with strategic partners and likeminded local authorities, we will continue to have a vital impact on the United Kingdom's economic outlook."
Leader of Milton Keynes City Council, Councillor Peter Marland
"This report provides compelling evidence which makes the case for investment in our cities on a range of important initiatives.
"Of particular importance to Norwich is making sure that with devolution, the possible benefits are felt by decisions being made close to the communities affected – and that devolved powers do not stop at county level.
"It also highlights the need to provide training to upskill those in the city who, because of the changing economy, can no longer stay employed in the retail sector."
Leader of Norwich City Council, Councillor Mike Stonard
"Peterborough is on the cusp of a growth and regeneration revolution. We are already attracting private investment, our economy is strong and we have a clear vision for how we want to expand. This expansion will not only benefit Peterborough, but it will also help the UK as a whole reach its economic potential.
"The Government holds the control for how fast we are able to achieve our aims. Its commitment to the FGCs now will accelerate the progress we are able to make in the years ahead."
Leader of Peterborough City Council, Councillor Wayne Fitzgerald
To download the report, Fast Growth Cities Economic Research - The case for investment, please visit Oxford City Council's website.