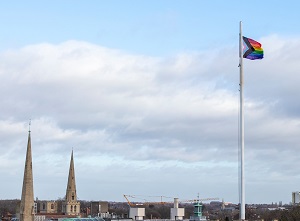 THE RAINBOW flag has been raised at The Guildhall in Cambridge today (1 February), with Mayor of Cambridge, Cllr Mark Ashton, speaking at a short ceremony to mark the start of the national LGBTQ+ History Month.
LGBTQ+ History Month is marked across the UK every year during February to celebrate the lives and achievements of people who are lesbian, gay, bisexual, trans and queer/questioning, plus others in the community.
The council supports local organisation Encompass Network which is coordinating a varied programme of talks, social events, performances, music, films, exhibitions and workshops throughout February which Cambridge residents can participate in.
Highlights for 2023 include:
Cllr Mairéad Healy, Executive Councillor for Equalities, Anti-Poverty and Wellbeing, said: "The programme for LGBTQ+ History Month 2023 looks brilliant – lots of opportunities to learn about LGBTQ+ history, as well as plenty of fun activities to join in with.
"We mark LGBTQ+ History Month each year as it's important that we restate our commitment to LGBTQ+ rights, and celebrate LBGQT+ people in our communities.
"Thank you to Encompass Network, and all other local community groups – many of which are powered by volunteers – for going the extra mile each year to promote a better quality of life for LGBTQ+ people in Cambridgeshire. We think it's right that the council supports community groups who can best decide what initiatives should be run each year."
The council's support for LGBTQ+ History Month forms part of its wider work to strengthen equality and diversity in Cambridge. Find information about different groups that support the LGBTQ+ community. 
The council encourages partners and individuals to show their commitment to challenging discrimination and promoting equality of opportunity by signing the Equality Pledge – which the council is a co-founder and signatory of.
The Equality Pledge reads: "We believe in the dignity of all people and their right to respect and equality of opportunity. We value the strength that comes with difference and the positive contribution that diversity brings to our community. Our aspiration is for Cambridge and the wider region to be safe, welcoming and inclusive."