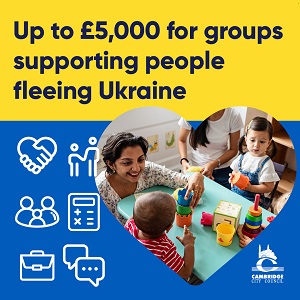 CAMBRIDGE City Council has increased the maximum amount of grant funding that community groups, small groups of residents, or organisations supporting refugees can apply for to run activities that support people who have fled Ukraine – from £2,000 to £5,000 per application.
Groups can apply to the fund multiple times, on a rolling basis, with applications assessed on a first-come first-served basis. However, subsequent applications will only be assessed once funds from a group's previous application have been spent. The funding will be available until the provisional total fund of £100,000 is exhausted. 
The maximum amount groups can apply for has been increased as a result of feedback from groups, suggesting that having more funding available per application would make it easier to run a series of events and allow groups to better plan ahead.
Groups that have already received a United with Ukraine community grant are running projects including: 
12 weeks' Supplementary Weekend School, plus a Christmas party for child refugees (Cambridge Russian School)
Weekly distribution of essential provisions for refugee arrivals, via a Ukrainian Aid Hub, which also acts as a welcome centre offering community support and signposting (Mums4Ukraine)
A series of four volunteering information workshops and provision of 1-2-1 support for refugees who may be interested in volunteering in the UK (CCVS).
To be eligible for a United with Ukraine community grant, activities will need to focus on one or more of the following:
Supporting people from Ukraine to navigate life in the UK
Promoting community cohesion and integration
Delivering money advice and management
Supporting access to employment
Increasing people's confidence in speaking English
Enhancing wellbeing, including activities for children.
Groups can apply online now.
Cllr Mairéad Healy, Executive Councillor for Equalities, Anti-Poverty and Wellbeing, said: "We are so grateful to everyone who has pitched in to help welcome arrivals from Ukraine to our city. Community organisations, volunteers and friendly residents all play an invaluable role in helping people to feel part of our community. The United with Ukraine grant has been open for applications since October, supporting a number of initiatives which are already making a massive difference to people who have arrived in Cambridge.
"We have increased the amount of funding available in response to feedback from groups, to make it easier for projects to get up and running. Whether you are part of an established community organisation, or a small group of residents who want to do something to support people from Ukraine to settle in Cambridge, please do consider applying for funding to help."