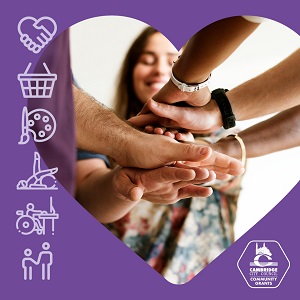 CAMBRIDGE City Council launched its Area Committee Community Grants scheme this week (13 December) and is inviting local groups that deliver community, arts or sports activities that reduce inequality to apply before each area's deadline.
Voluntary or community organisations, or groups of local residents, can apply for the grants of up to £5,000, from a total of £70,000 available as part of the wider Community Grants programme. Activities must take place between 1 April 2023 and 31 March 2024. Funding could be spent on venue hire to host activities; costs to run activities that benefit people on low incomes; or resources for art projects. 
The activities would need to specifically benefit people within one of the four Area Committee regions of the city:
North – covering Arbury, East Chesterton, King's Hedges and West Chesterton. Deadline to apply: 25 January
South – covering Cherry Hinton, Queen Edith's and Trumpington. Deadline to apply: 1 February
East – covering Abbey, Coleridge, Petersfield and Romsey. Deadline to apply: 1 February
West Central – covering Castle, Market and Newnham. Deadline to apply: 10 February
Funding will be prioritised for activities that address social or economic inequality, as part of the council's anti-poverty strategy.
Cllr Mairéad Healy, Executive Councillor for Equalities, Anti-Poverty and Wellbeing, said: "These Area Committee Community Grants build on the wider Community Grants programme that was launched earlier in the year, which funds groups to run projects that can be accessed by people from right across the city. These grants, in contrast, have a more local focus, so that groups who are doing brilliant work in one local community can also access funding.
"This year there is over £1 million available in the Community Grants programme to support community groups. Thank you to everyone who works so hard, often as volunteers giving their time, to run these projects. Our hope is that this funding will enable you to continue, or to run new projects in your local community. If you have a current project, or a new idea, please apply for up to £5,000 to support your work."
For more details email grants@cambridge.gov.uk, call the Grants Team on 01223 457875, or visit the Area Committee Funding webpage.